Archive days will, from 12th April 2022, be on Tuesdays instead of Fridays. Opening time will be from 09.30 to 17.00 but can be extended into the evening during summer months. Any changes to this will be announced in this introduction.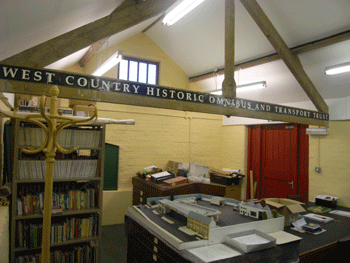 Location and Access
The archive is an important ingredient of WHOTT and is easily accessible to visitors wishing to do research or simply browse at the catalogues. It is intended that the latter will be available to search online in due course. The archive is located at Coldharbour Mill, Uffculme EX15 3EE and lies to the west side of village and can't be missed because of the very tall factory chimney. It is very easily reached by car from either Junction 27 or 28 of the M5 motorway (ten minutes). Just follow the brown heritage signs saying Working Woollen Mill. Car parking is available and a new internet cafeteria will begin functioning soon on most days of the week. It is essential that contact is made in advance of your visit and that, on arrival at the free car park, the use of a mobile phone is needed to contact the duty archivist on 07974-567756.
Entry will normally be by way of the new Coldharbour Mill shop (signed from the car park) and on production of your WHOTT membership card, you will be allowed through to the WHOTT archive free of charge. Non-members can either choose to enrol at the shop or arrange for a WHOTT representative to escort them to the archive. Entry to the archive does not include the Mill itself for which a visitor charge is separately made.
Visitors arriving by train can easily reach the Mill on Stagecoach services 1 or 1A from Exeter via Tiverton Parkway. Buses of Somerset service 22 also stops near the Mill on the Taunton – Tiverton service.
PLEASE NOTE that Coldharbour Mill itself will not be open on Mondays or Tuesdays so if only one of these days is suitable, we are still able to welcome you by special arrangement
History
In 2000, shortly after WHOTT was formed, the opportunity arose to purchase a very large collection of Exeter Corporation tram and bus ma
terial. While purchasing of objects is less frequently done than accepting them by loan or donation, the Trustees had to act quickly in this instance to prevent the collection being broken up and sold by auction. This marked the beginning of an archive that has steadily grown in size and content over the last fifteen years. A recent audit of the collection revealed that of the 965 individual accessions, 13 were purchased, 542 donated, 280 loaned and one by bequest. From the outset WHOTT has used the standard accession form, as recommended by the MDA (Museums Documentation Association), every accession being properly recorded. The original accession form is held in the archive register and a signed copy by the person from whom the object was obtained. Each individual object carries a unique reference number that is traceable electronically and backed by a paper trail. In 2005 the Trust was able to obtain 20 tonnes of good quality Dexion shelving and 600 archive quality storage boxes and in the following year underwent a review by the National Preservation Office of the British Library. A move to much better facilities at Plymouth in 2008 enabled the Trust to be awarded a National Archive Repository number – GB3168. WHOTT uses a condensed version of the International Standard of Archive Description, ISAD(G), and also elements of Spectrum for larger artefacts and objects. A bespoke archive management system is proposed that will, in the future, make for rapid searches and the gathering together of similar material for the researcher, as well as completing more fields in the ISAD database. In November 2015 the archive, covering an area of nearly 1000 sq feet, was moved from Plymouth to Coldharbour Mill, Uffculme where it occupies a site of heritage importance with greater ease of access and scope for expansion.
What can you find?
Broadly covering all aspects of commercial road transport and travel in the west c
ountry, the archive contains such material as legal documents dating back to the 1880s, advertising, business reports, correspondence, ordnance survey maps, engineering drawings of chassis and bodies, plans of bus stations and offices, films, slides, photographs, magazines and journals, ticket machines, tickets and passes, badges, timetables, faretables, uniforms, models, newspaper clippings, destination blinds, ephemera such as letter heads, luggage labels, pamphlets and brochures and an extensive library of books and PSV Circle publications covering a wider area. Larger artefacts include timetable cases, bus stop flags, sections of tram rail and other items of street furniture or hardware. The archive also contains copies of articles and reports of developments in the region's transport industry since 1895.
Facilities
The archive is situated in a separate building within the Coldharbour Mill site. It has a secure repository, a reception room and reading room which also houses the library. We can accommodate up to six researchers at any one time. The entire facility is on ground level and disabled access for the archive and toilets is easy. A cafeteria is being provided from about Easter 2016 so in the meantime we suggest visitors bring their own refreshments. We have tea and coffee making facilities and a microwave oven. Items can be photocopied or scanned at will providing that there is no copyright protection in place. Visitors will be asked to sign in and out and use only pencil for making notes. Pencils, magnifying glass, light box for negatives and other utensils are available. We make a charge of 10p for A4 or 15p for A3 photocopying. Research can be undertaken on your behalf. Our search fee is normally £10 per hour but is negotiable for longer periods.
Copies of all our publications are available for purchase at our reception, including back numbers of most WHOTT's NEWS. Generally we are open two days a week (see list of dates) but if visiting the Mill at any other time, it is possible to purchase our publications from the Coldharbour shop instead.
To pre-book an appointment please contact Robert Crawley on 01395-567795 or 07974-567756.