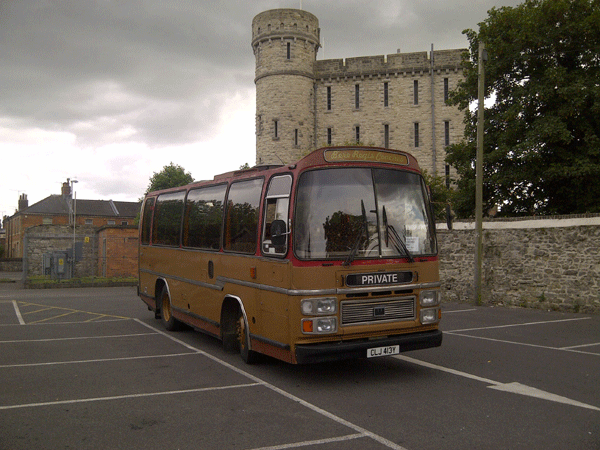 Accession 834 16/08/15
1983 Bristol LHS6L with Plaxton Supreme V GT 828BSS5C012 C33F body.
CLJ 413Y was purchased by a WHOTT Member on 22nd July 2015 and placed in the care of WHOTT at its Dorchester running day on 16th August 2015. It is believed to be the very last LHS built and the only survivor of the once vast BR&D fleet. The new owner writes:
"During the 1980s the BR&D fleet underwent enormous change, losing the very many older Bedfords, Fords and the odd Leyland or two in favour of more modern, albeit second hand, Bedfords and Volvos. Whilst the fleet was changing thus there were a few purchases of new vehicles including one heavyweight Leyland, five new Volvos and few lightweight minibus type Fords, all of these arriving before the large intake of new Volvo B10Ms in 1988. In the midst of all of this change the Company elected to buy two Bristol LHS coaches, bodied by Plaxton. This choice of chassis has never been explained and seems to exhibit a real deviation from normal policy. Whereas the later, new Volvos had been obtained on a leasing agreement, I believe that these Bristols were actually owned directly. Sadly, Mr. Roper is no longer around to answer this question. It has been put to me that the LHSs were seen as a successor to the good old Bedford OB and suitable for loads of about 30 persons. The purchase of Volvo 901 CDU in 1987 would seem to give the lie to this theory but maybe there was no smaller Volvo available in 1983. The two LHSs were certainly a surprise and a fresh face in the fleet. I saw them fairly frequently but, perversely, LLJ 605W was far more often in my view than CLJ 413Y. The latter was operated for only just over four years before being sold indirectly for further service in Dumfries. Her time in Scotland was, again, four years whereupon she went south again to be operated by Deeble in Cornwall until the end of the 20th century. CLJ's ownership subsequent to Deeble and prior to late July 2015, is somewhat obscure and I would welcome clarification. When I purchased her, CLJ was dry, not neglected and she started on the button. Her 32 years are to be seen but she has worn well. Time will prove her true condition but I believe that she will serve us well and for many years to come."